Duvel Distilled 2021
"The best of brewing and distilling traditions brought together in a bottle."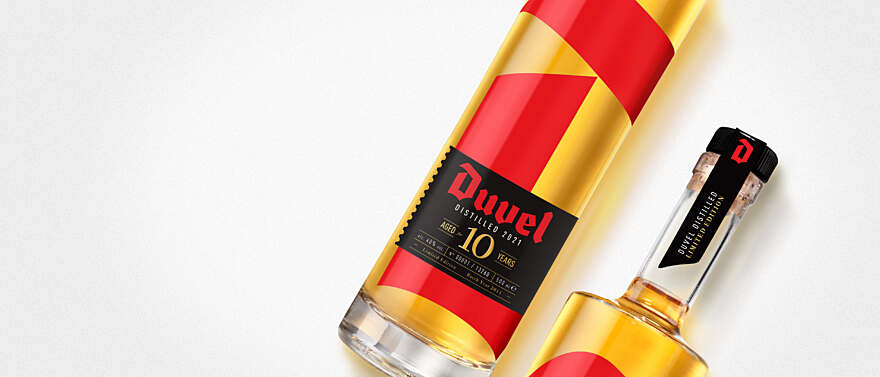 Patience is a virtue and, in this case, a delicious one, because from late October, you can taste the new Duvel Distilled 2021 – 10 years aged. Duvel Distilled 2021 was left to rest for a full decade in carefully selected bourbon and sherry barrels, an unhurried, artisanal process that allows the finest flavours and aromas to emerge. In order to ensure that each bottle is of excellent quality and taste, only a small volume is available, 13,780 bottles to be exact.

Subscribe to the newsletter to be notified as soon as this product is for sale in the Duvel webshop.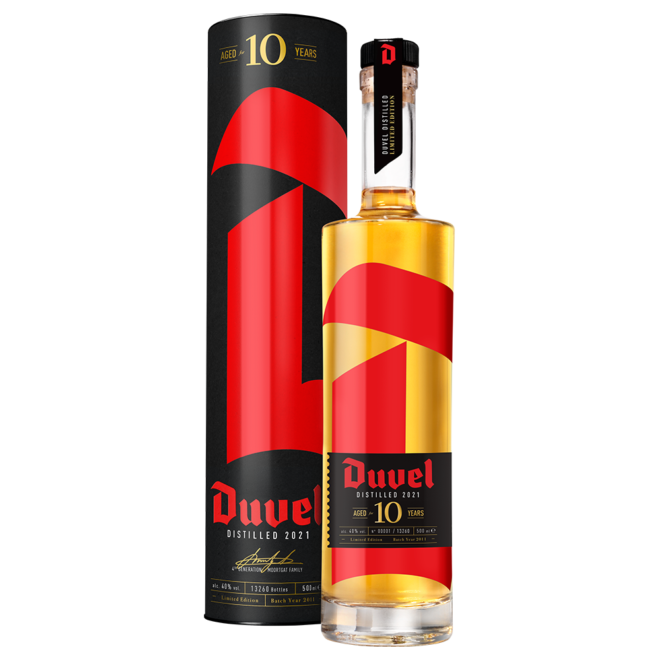 LIMITED EDITION
For Duvel Distilled, part of the basic Duvel brew was distilled according to the authentic technique and then aged in oak bourbon and sherry barrels for ten years. The result is a unique Duvel-based spirit with golden hues and floral aromas. The 10-year-old Duvel Distilled will be available in a limited edition on the Belgian market, in a lot of only 13,923 bottles. If you want to get your hands on a bottle, you'll have to be quick because last year's stock sold out in just three days.

GOLD
Duvel Distilled 2021 is a pure, transparent drink with straw-yellow and golden hues and an aroma of vanilla, raisins and toffee. The alcohol percentage is 40°. Allowing the spirit to mature in oak bourbon and sherry barrels imbues it with subtle notes of vanilla. The aftertaste is characterised by a warming mouthfeel.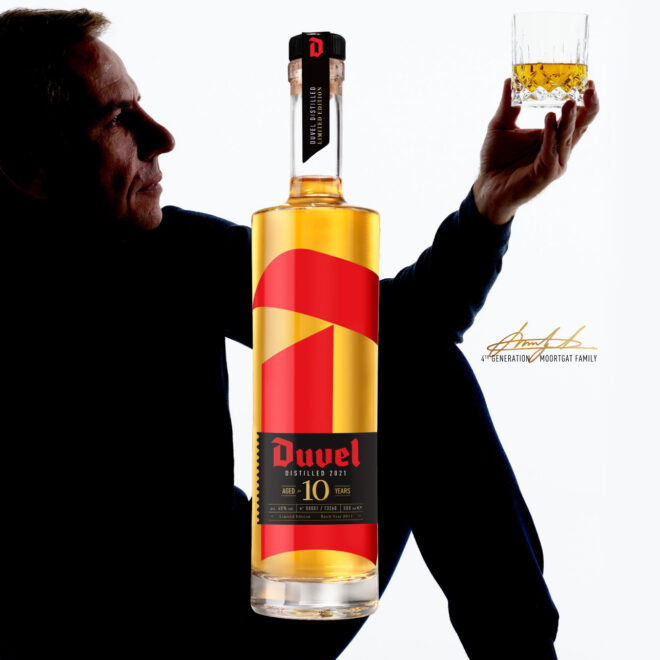 HOW TO SERVE
Duvel Distilled 2021 is delicious in combination with grilled fish and meat, vegetables such as artichokes and Brussels sprouts, as well as dark chocolate, crème brûlée and apple tart. Aged, hard cheeses such as Parmesan or Oude Groendael also pair beautifully with this spirit.
Duvel Distilled is best served in a tumbler glass on the rocks or just neat in a small tulip glass.
WHERE TO BUY
Duvel Distilled 2021 – 10 years aged will be available in a limited edition from the end of October from specialty beverage retailers and via the webshop.

Duvel Distilled 2021 - 40 % ALC - 500ml - aged for 10 years