Duvel Distilled 2019
DUVEL DISTILLED IS AGED ON BARRELS
FOR TEN YEARS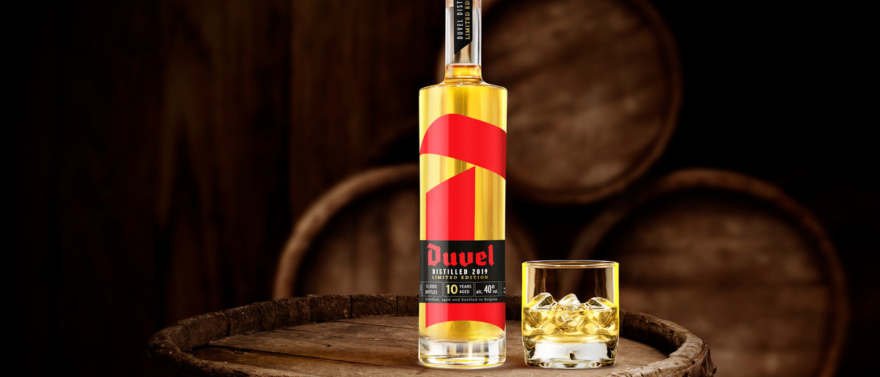 " THE BEST OF BREWING AND DISTILLATION TRADITION BROUGHT TOGETHER IN A BOTTLE "

Since 2006, the Duvel Moortgat brewers have been working with great passion and craftsmanship on a product that combines the best of the Belgian brewing and distillation worlds: Duvel Distilled. Part of the basic brew for regular Duvel beer was set aside to be distilled and then aged for ten years in oak bourbon and sherry barrels. The result is an exclusive Duvel based spirit with golden colour tones and floral aromas. Aged for 10 years, Duvel Distilled will be available on the market in a limited edition as of end of October.

10 YEARS OF PATIENCE IN A BOTTLE
The brewers at Duvel Moortgat brew the world famous Duvel specialty beer every day with the utmost passion and craftsmanship. Aside from a healthy dose of ambition, the brewers also have a strong spirit of creativity, and so, in 2006 they came up with the idea of having Duvel distilled and allowing that distillate to mature in wooden barrels. In this way they are bringing together the best of the Belgian brewing and distillation traditions. The process for Duvel Distilled was started and after two successful batches, the Duvel-based distillate is now ready for a third series.
Hedwig Neven, Brewmaster at Duvel Moortgat.
"We are fascinated by different brewing techniques, but also by distillation and aging. We distilled the basic brew for Duvel into a strong alcoholic beverage. Then we filtered the distillate and let it mature for years in oak bourbon and sherry barrels. This fall, we are launching Duvel Distilled, which has been aged in barrels for ten years. Some things are worth the wait!"
FLORAL AROMAS WITH A TOUCH OF VANILLA
Duvel Distilled is a pure, transparent spirit with straw yellow and golden hues combined with an aroma of vanilla, raisins and toffee. The alcohol percentage is 40°. Allowing the spirit to mature in oak bourbon and sherry barrels, this liquor contains a subtle vanilla touch. The finish is characterised by a warming mouthfeel.
Duvel Distilled, 10 years old, is delicious in combination with grilled fish and meat, sauces made with Vin Jaune or Sherry, vegetables such as artichokes and Brussels sprouts, fruit such as mangoes, peaches and bananas. Also dark chocolate, crème brûlée, apple pie, or aged, hard cheeses such as Parmesan or mature Groendael are a great combination with Duvel Distilled.
Duvel Distilled is best served in a tumbler glass with ice cubes or simply neat in a small tulip glass.

Duvel Distilled, 10 years old, will be available in a limited edition at specialised liquor distributors as of end of October.
40% ALC - 75 CL - aged 10 years