Duvel Barrel Aged
SHHH… DUVEL IS BEING AGED HERE IN AMERICAN BOURBON BARRELS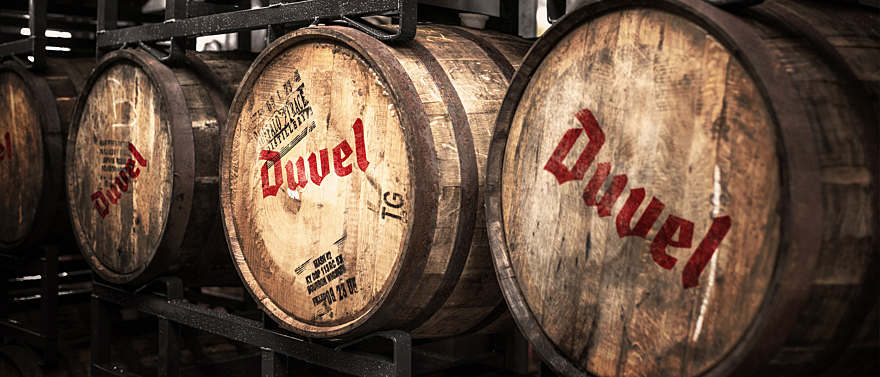 The Duvel brewers have not been sitting still in recent months, but their specialty beer has been doing just that. Around three hundred barrels from well-known American bourbon distilleries got to Belgium and were given a second life at the brewery. The oak barrels from Heaven Hill, Woodford Reserve, Four Roses, George Dickel and Jack Daniels were initiated by the Duvel brewers with the golden specialty beer. The Duvel beer matured in the barrels for nine months. This powerful taste sensation from Duvel with bourbon aromas will be available from November. And because the Duvel brewers like to spoil their fans, Duvel Barrel Aged comes in a new, revamped gift box.

#01 - DIVINE PATIENCE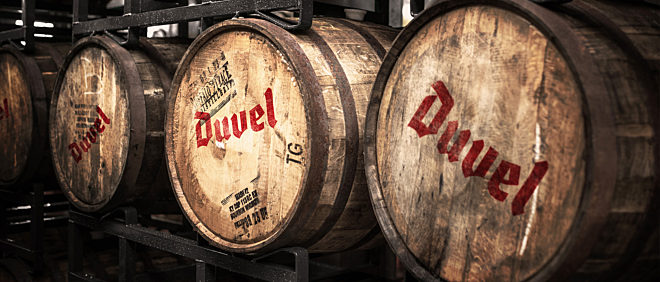 Duvel Barrel Aged is a unique tasting beer that was developed with great respect for the authentic taste of Duvel, but with a surprising twist. The gold-coloured specialty beer is aged for nine months in oak bourbon barrels. The barrels come from renowned American bourbon distilleries: Four Roses Distillery, Woodford Reserve, Jack Daniels, Heaven Hill and George Dickel.
The barrels are still saturated with the original bourbon and this creates a slightly stimulating Duvel mouthfeel with powerful notes of bourbon, vanilla and caramel. Duvel Barrel Aged is a unique 11.5% ALC tasting beer with a sensational flavour that's delicious in combination with raw or smoked fish, sushi, grilled or smoked meat, cheeses, exotic fruit and chocolate.
Duvel Barrel Aged stands for refined enjoyment, shared with friends and family, and is perfect for serving at the end of a festive meal.
As the beer will mature for a longer period, this "barrel-aged" Duvel will be darker in color than the traditional Duvel, with a higher alcohol percentage and less bitterness.

The barrels that were selected have had a long life and can boast a real evolution in terms of taste. The oak bourbon barrels originate from two distinguished American bourbon distilleries: the Four Roses Distillery in Kentucky (nominated 'distiller of the year' in 2011, 2012, 2013 and 2015) and the Buffalo Trace Distillery in Kentucky('most award winning distillery in the world'). In the distilleries' maturing basements each barrel has matured bourbon for five to seven years.
#02 - GOLD MEDAL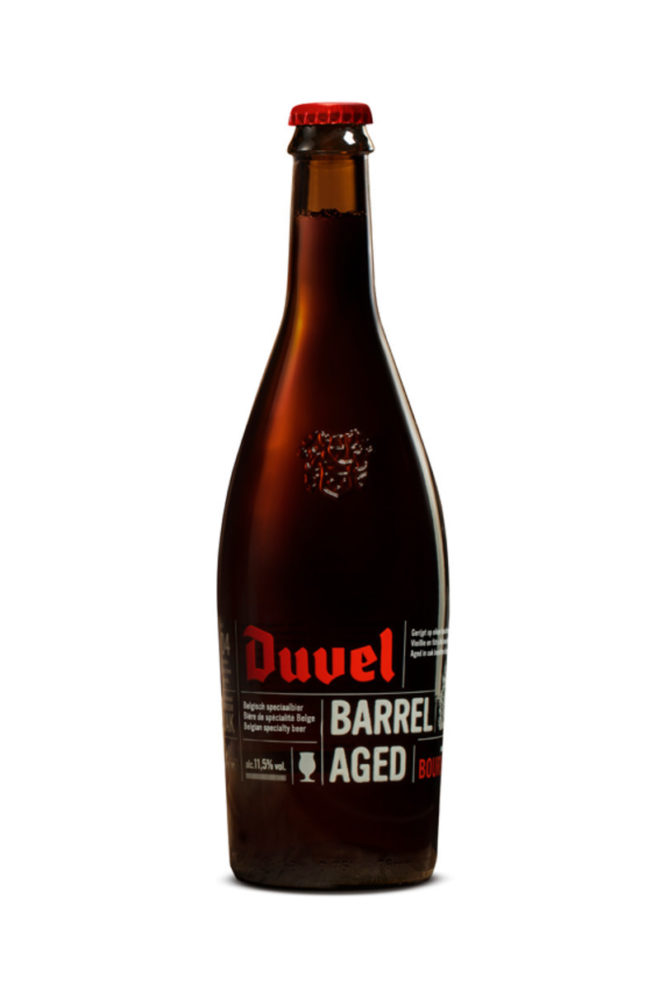 Duvel Barrel Aged was awarded a Gold Medal at the World Beer Awards in 2017. A second and third series of Duvel Barrel Aged soon followed. Also this fall, lovers of beer, Duvel and whiskey can once again enjoy Duvel Barrel Aged.
Since the demand is so huge, more than 330 American bourbon barrels were filled for the limited edition of 2019 and almost 80,000 numbered Duvel Barrel Aged bottles are on sale. The bottle and the gift packaging were given a new look for the new season.
#03 - HOW TO SERVE?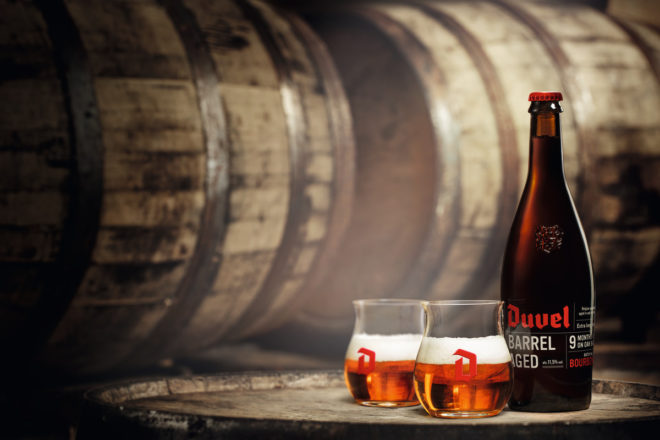 A beer that is aged to perfection deserves special treatment. Ideally, a Duvel Barrel Aged should be poured at a temperature of 8° C. The heavenly aroma works best in the specially developed tasting glass that is enclosed in the gift box. A wine glass, a tulip glass or a tumbler can, of course, also be used to savour Duvel Barrel Aged.
#04 - SALES INFORMATION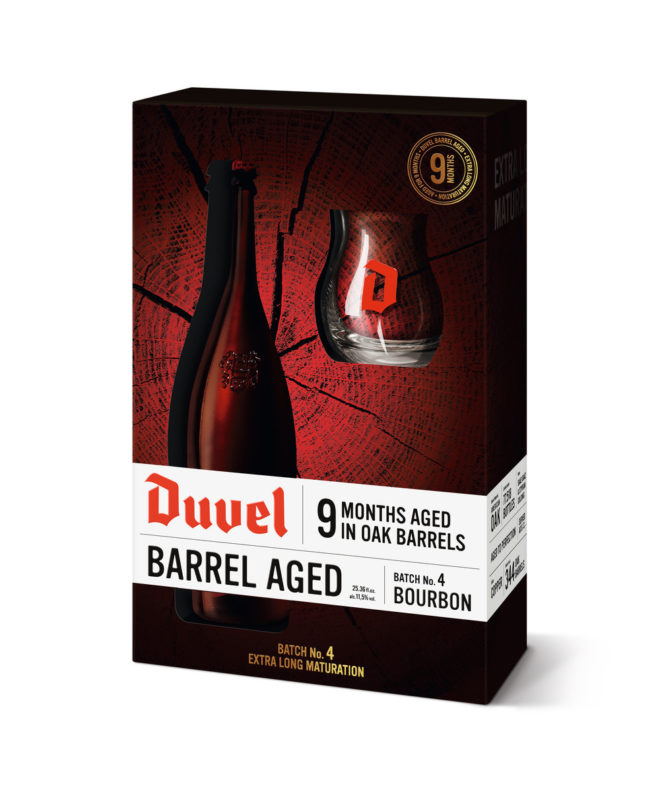 Duvel Barrel Aged (11.5% ALC), in numbered 75cl bottle, is the ultimate gift idea for a Duvel lover, but it's also great for serving at special moments among gourmands and foodies.
#05 - TASTING NOTES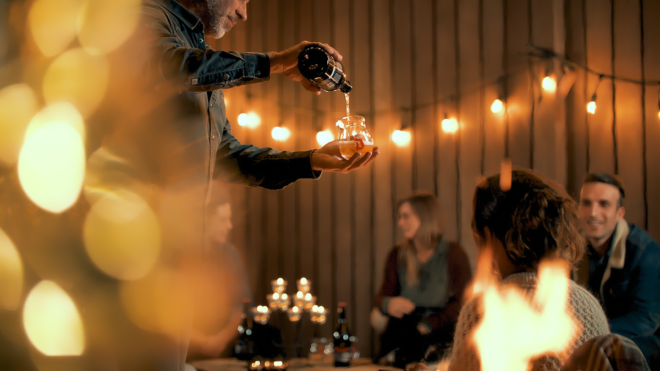 COLOUR
Visual taste evolution amber to ochre
AROMA
Intense toffee, a hint of caramel, lightly roasted, vanilla, bourbon
TASTE
Soft, velvety mouthfeel, toffee, warm bourbon glow and a gentle present acidity. Nine months ageing. You can taste that. A deeper and more complex Duvel degustation beer Has a very long finish