Duvel 666 & mozzarella sticks
Mozzarella sticks accompanied by a coriander mayonnaise.

A delicious recipe, simple to make and ideal to accompany Duvel 666 during the aperitif!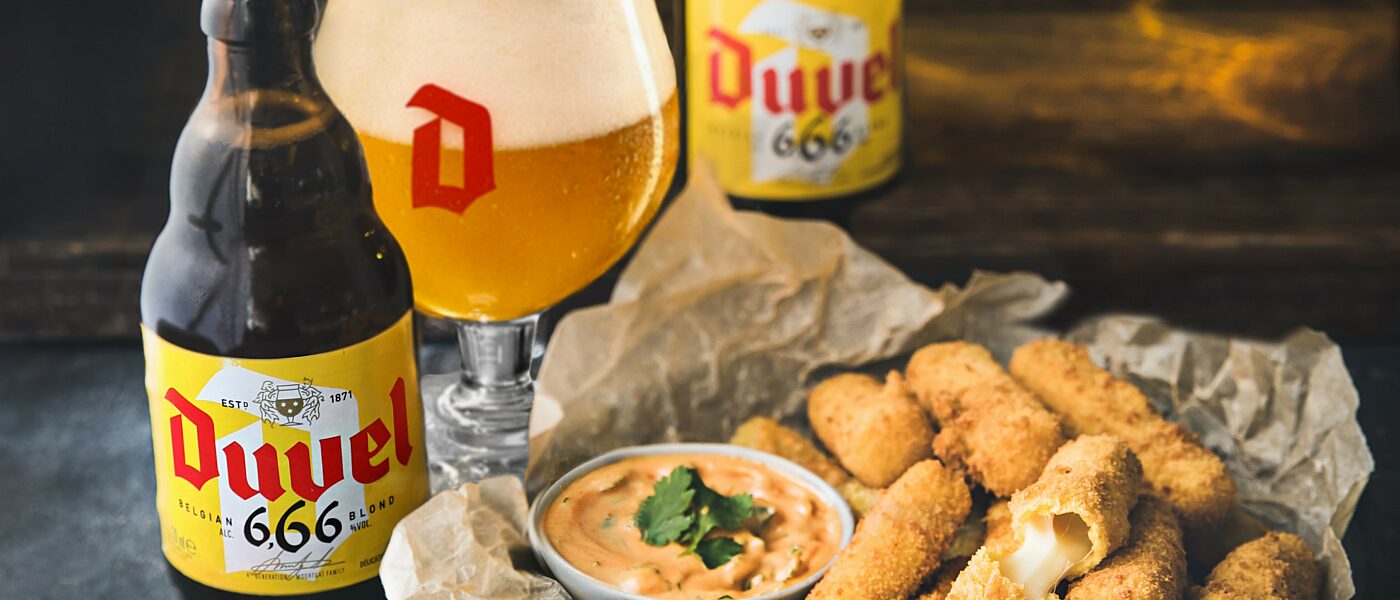 Preparation time: 15 minutes
Cooking time: 5 minutes
Ingredients for 4 persons:

For the coriander mayonnaise:

1 egg yolk
1 teaspoon mustard
15 cl neutral oil
Salt and pepper
¼ branch of coriander
1 teaspoon ground coriander
1 teaspoon ground cumin
1 teaspoon curry powder
For the mozzarella sticks:
200 g dry mozzarella
50 g flour
1 egg
150 g fine breadcrumbs
5 cl frying oil
Thanks @stephatable for the recipe!
Preparation:
Finely chop the coriander.
In a bowl, mix the egg yolk, a little salt and pepper, a spoonful of mustard.
Whisk everything together and gradually add the oil to thicken the mayonnaise.
Add the herbs and chopped coriander. To mix together.
Cut the sticks from the dry mozzarella.
Prepare 3 plates for breading the cheese.
Roll each strip in flour, then in egg, then in breadcrumbs.
Double the breadcrumbs by repeating the last two steps.
Heat the oil in a pan or fryer and fry the mozzarella sticks until nicely browned (about 5 minutes).
Serve with the coriander mayonnaise.
Enjoy!