3 GOLD awards in Duitsland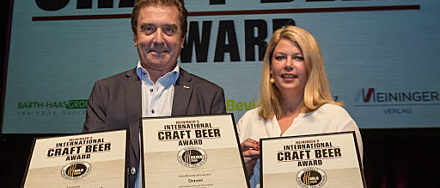 Meininger's International Craft Beer Award took place for the sixth time this year. With over 1,200 beers, the competition grows continuously and set, with 12 % increase, a new record in 2019. You as well have contributed to this and faced the growing competition with your beers, with success! We are pleased to announce that you have placed yourself among the best in this year's competition.
Als je een dergelijke e-mail binnen krijgt, kan je dag niet meer stuk. We hebben voor het eerst deelgenomen aan de Meininger's International Craft Beer Awards, een internationale en hoog aangeschreven wedstrijd die plaatsvindt in Neustadt an der Weinstraße Duitsland. Ieder bier wordt er blind geproefd door een panel van 7 judges. Met fierheid kunnen wij nu melden dat we vier maal in de prijzen vielen : Liefmans Goudenband, Tripel d'Anvers en Firestone Walker Easy Jack IPA kregen een Gold Award en Duvel een Silver Award.