Would you like to know more about your favorite beverage and the brewing process? Discover all about the history of the Duvel Moortgat brewery and take a look inside the walls of the brewery and the bottling plant.
Learn what makes Duvel so unique and how to correctly pour the drink of gods.
WHAT CAN YOU EXPECT?

Reception by a professional guide
Introductory film, guided tour of the brewery and bottling plant
Pour initiation, 2 drinks
Gift
Duration: 2 to 2.5 hours
Price: € 12/person
CAUTION:
* The bottling plant is not operational on weekends or Friday nights.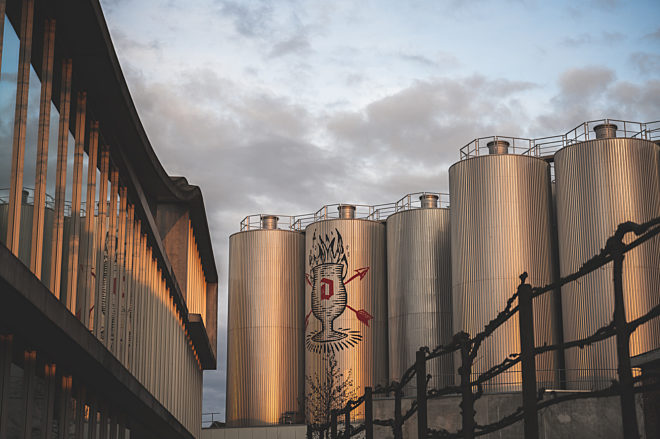 THE UNIQUE EXPERIENCE OF A BREWERY VISIT
Let yourself be taken through the wonderful universe of the brewery. You will be welcomed by a professional company guide. After the introductory film you will be given a tour of the brewery and will discover everything about the brewing process and the impressive bottling plant.
The tour ends with a Duvel pour, 2 drinks and a small gift. You will go home with a nice souvenir.

USEFUL DOCUMENTS
Practical information
NUMBER OF PERSONS
This package can be reserved from 15 people up to 70 people. Is your group too small? Then you can just join another group provided that there is already a minimum of 15 people reserved.
TIME
From Monday to Friday at 1, 4 and 7 pm (on Friday not at 7 pm), on Saturday at 11 and 2 pm, except on holidays (note: on Saturdays the bottling plant is not in operation, and the visit only takes 2 hours).
PARKING FOR BUSSES
Groups visiting our brewery by bus, can park the bus at sports hall "De Vrijhals" Cyriel Verschaevestraat 15 in Breendonk (about 260m from our visitor center).
The group leader can call the driver at the end of the visit to pick up the group at the visitor center. In this way we avoid unsafe situations in the village center.