Collab 't IJ x 't Uiltje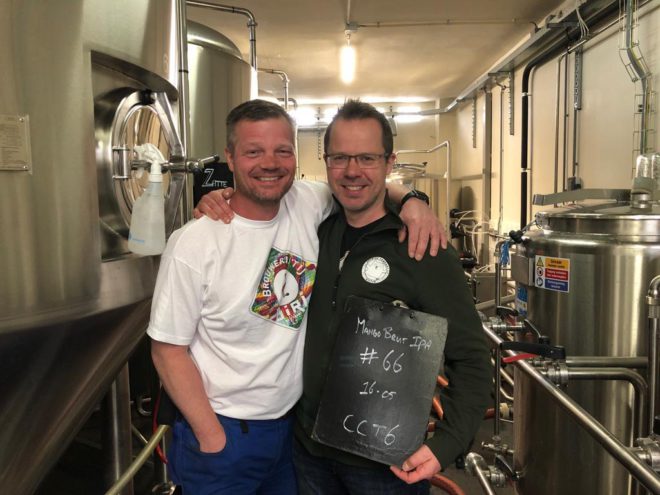 When you read "Brut IPA?", it probably makes you think of the champagne variant right away. That's not so crazy, as this type of IPA is just as fresh, fruity and totally dry. The style is completely new and we've never brewed anything like it before. For our very first Brut IPA, we invited Roel from Brouwerij 't Uiltje, an old acquaintance. He brewed beers for us for years with an ostrich on the label. A fantastic brewer who flew the nest for Haarlem a few years ago, where he now works at Brouwerij 't Uiltje, mainly brewing a large number of IPAs. All in all, Roel is the ideal partner for tackling this exciting beer, so he returned to his old stomping grounds for a little while.
We paired Roel (right) with our own Fred (left). As you can see from the photo, the feeling was one of old friends and the chemistry certainly hadn't gone anywhere. They had a good old time together developing a recipe for a wonderfully fruity Brut IPA. Our brewer Paul was then tasked with the careful preparation of this fresh recipe. There wasn't much sugar left over in our Mango Brut IPA, as is quite proper. No lack of hoppiness either owing to the addition of El Dorado Mosaic and Nelson Sauvin. The fruitiness is also clearly present from the addition of mango and guava.
The result of this foamy mixture is a nice and delicate beer at 6.5%. The Mango Brut IPA will be available to taste shortly in our tasting rooms.