Duvel x Magritte
Duvel pays homage to the 125th anniversary of the birth of René Magritte with a surreal specialty beer in a sublime replica of the original CIEL BOUTEILLE from 1940.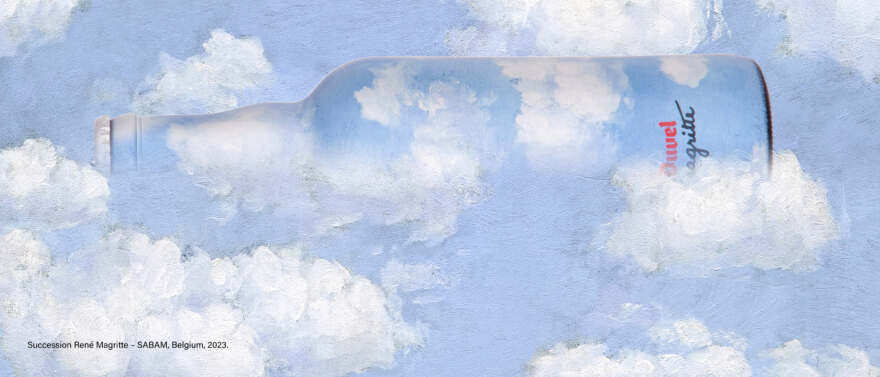 Duvel is celebrating the 125th birthday of the Belgian painter René Magritte. As a tribute to this iconic artist, the brewery is releasing a bottle based on his surrealist work CIEL BOUTEILLE from 1940.
During the war, a painter's canvas was a scarce commodity, so Magritte decided to use a bottle as his canvas. This is how he came to produce a small series of works of art on bottles with an extraordinary 3D effect, among them, CIEL BOUTEILLE, a special composition in oil paint with the characteristic blue sky and white clouds. And it is precisely this iconic work that is now being given a second life on a 75cl beer bottle.
The Duvel brewers added an extra surreal touch by brewing an unfiltered Duvel for this unique occasion. In this way, Magritte's magical cloud world is also reflected in the appealing cloudiness you'll find inside the bottle. This unfiltered Duvel is characterised by a rich, fruity attack with a full, bitter finish.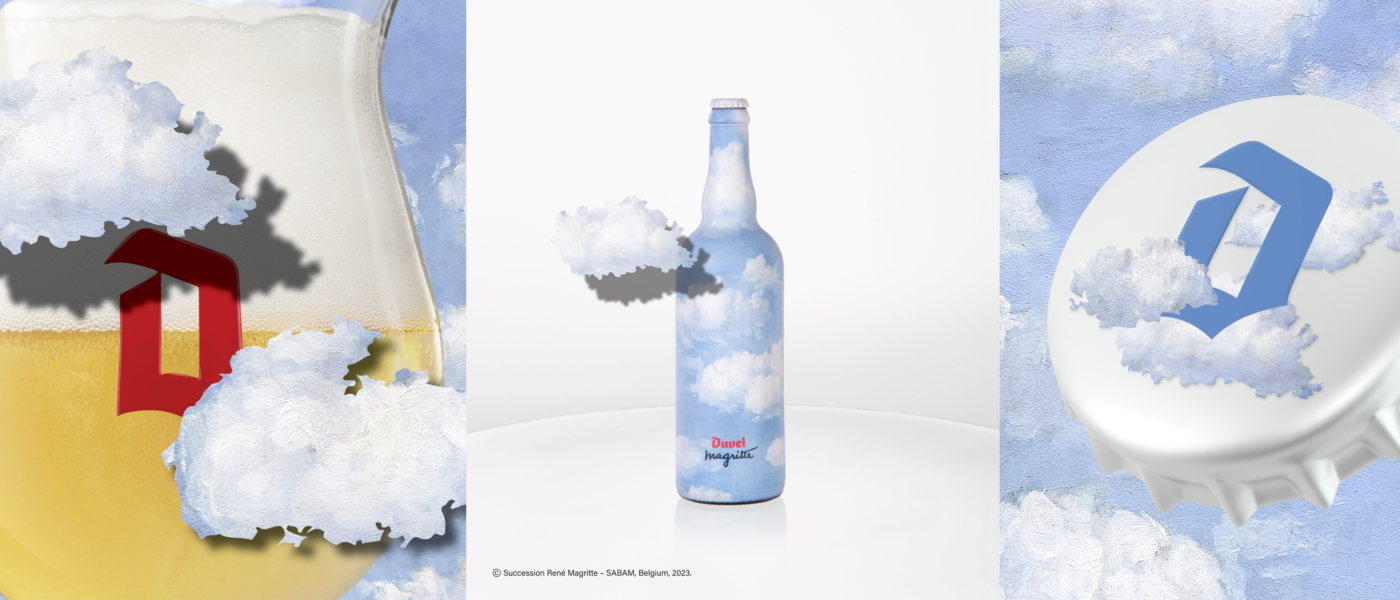 Magritte and surrealism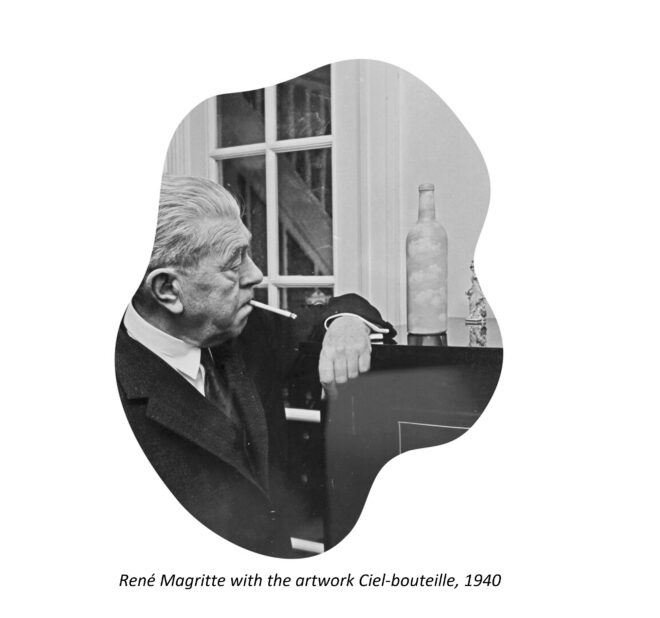 At the outbreak of WW2, the Belgian artist Magritte did not always have access to canvases to paint on, so he resorted to painting on bottles. The round shape of the bottle produced a cinematic effect. A mini-series of about 25 artful surreal bottles were thus created, including the iconic CIEL BOUTEILLE artwork. Magritte was very attached to this work of art and kept it with him until his death.
Duvel Moortgat is now giving this unique work of art a second life and bringing it to people's homes. Once again, a bottle forms the canvas for Magritte's iconic clouds. This replica was executed with respect for the artist and with a great eye for detail, so that this special, iconic work by the Belgian artist can be rediscovered in 2023.
Michel Moortgat: "I have a lot of respect for this Brussels artist who is still very relevant worldwide today. With his powerful visual language, starting from simple, almost banal objects, he creates a world of double meanings and multiple storylines. A true source of inspiration for us brewers to continue working with beer in surprising and innovative ways."
Duvel and art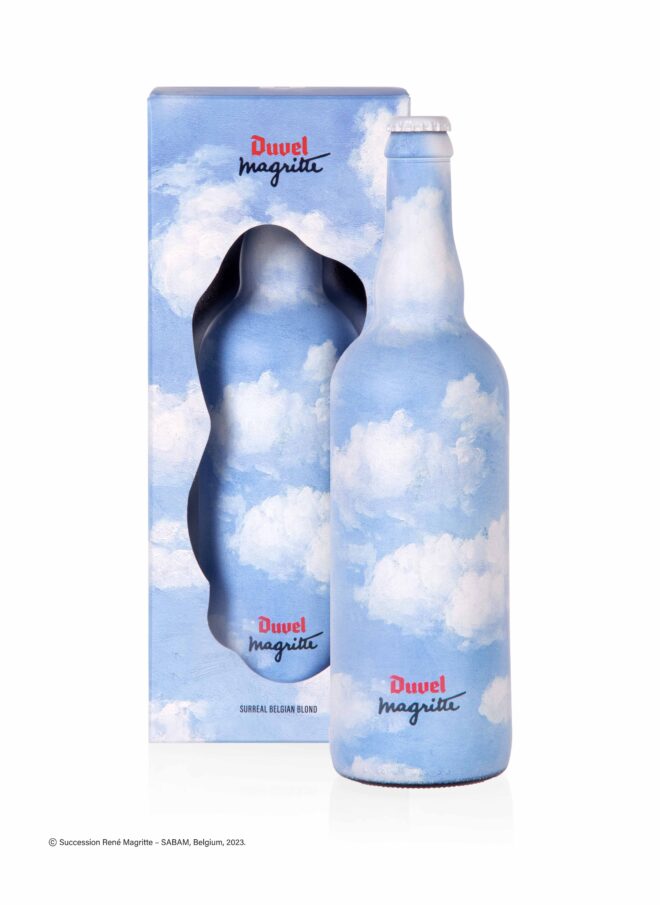 Duvel Moortgat has never hidden its passion for design, modern art and architecture. In the past, the brewery has already set up partnerships with art centres and museums such as the S.M.A.K and WIELS and the Biennales of Venice and Lyon and can look back on a long series of successful collaborations with artists of all kinds. Thanks to the Duvel Collection, young Belgian and international artists are given a platform to make their art known to a wide audience and to use the iconic Duvel glass as their canvas.
Duvel x Magritte
75 cl; 8.5 % ALC
Available at better liquor stores, at the Magritte Museum, the Magritte Shops in Brussels and Brussels Airport, KMSKA and via shop.duvel.be. As of mid July also available at Carrefour. This limited edition will not be available in every shop at the same time. For up to date info, please contact the point of sale directly.

© Succession René Magritte – SABAM, Belgium, 2023.

More news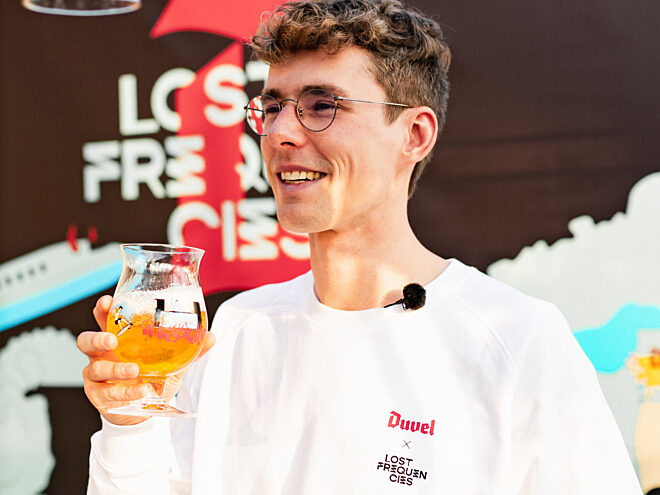 The 2022 Duvel Collection glass is designed by Felix De Laet, internationally known as top DJ and producer Lost Frequencies. This multi-talent from Brussels is making waves worldwide with hits such as 'Where Are You Now' and 'Are You With Me'.
Read more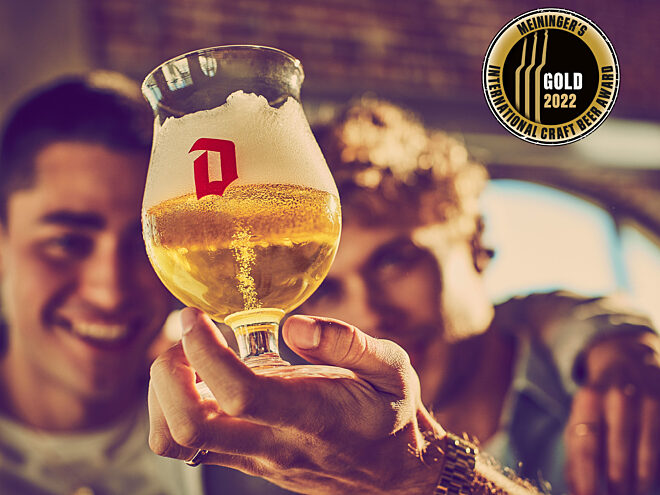 Duvel 8,5% was awarded a gold medal at Meininger's International Craft Beer Award 2022 in the "Blonde Strong Ale" category.
Read more