Duvel Barrel Aged: Duvelish craftsmanship, Brazilian passion
Discover Duvel Barrel Aged nr 8 - the Brasil Rhum Edition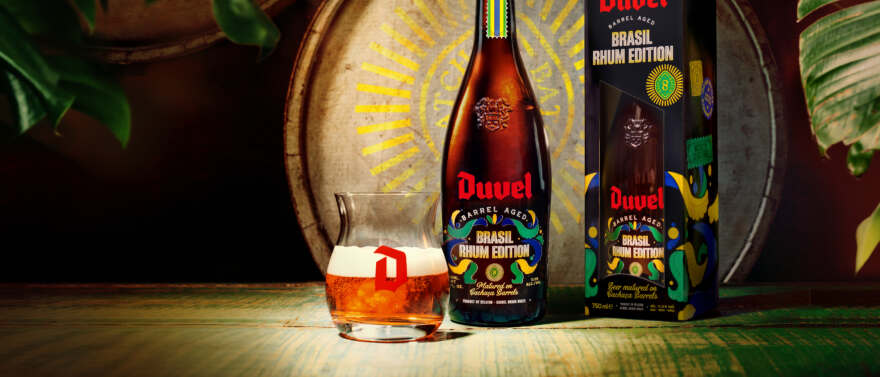 Best of both worlds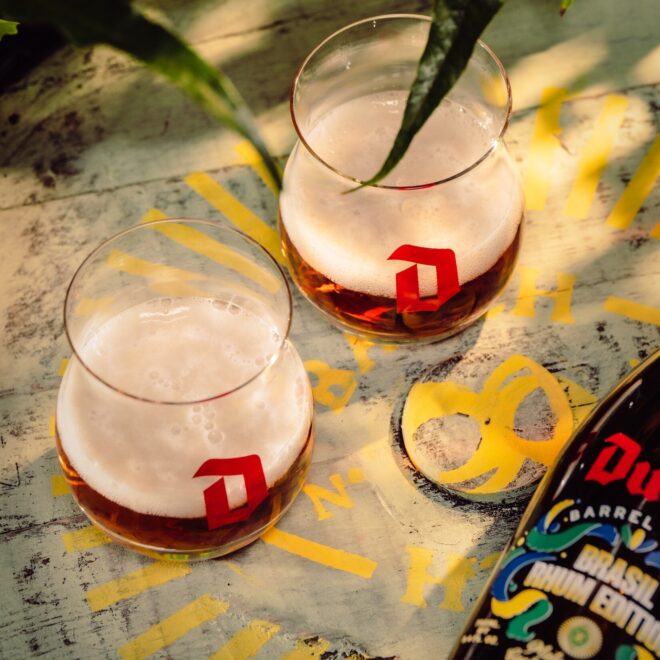 Since 2017, our master brewers and distillers pull out all the stops once a year to brew an ultimate version of Duvel. Instead of the classic refermentation in the bottle, our iconic Duvel is matured in wooden barrels, where once flavourful spirits have been aging.
This year, Duvel Moortgat is taking its inspiration from across the ocean, with cachaça from Brazil. Because - like rum - it is made from sugar cane, you can think of cachaça as a kind of rum.
No less than 446 selected oak cachaça barrels were transferred to our cellars. Our brewers poured Duvel in them, thoughtfully awaiting the precise flavour development.
After 8 months of intensive maturation, master distiller Cédric Heymans tasted pure magic in the unique, natural fusion of the two flavour profiles: 'The cachaça barrels enrich Duvel with a lively fruit punch, which then expands festively with notes of oak, dried nuts and vanilla. In Duvel Barrel Aged, The Brasil Rum Edition you will discover both the finesse of our trusted Duvel and the fiery character of cachaça.'
Aged to perfection on cachaça barrels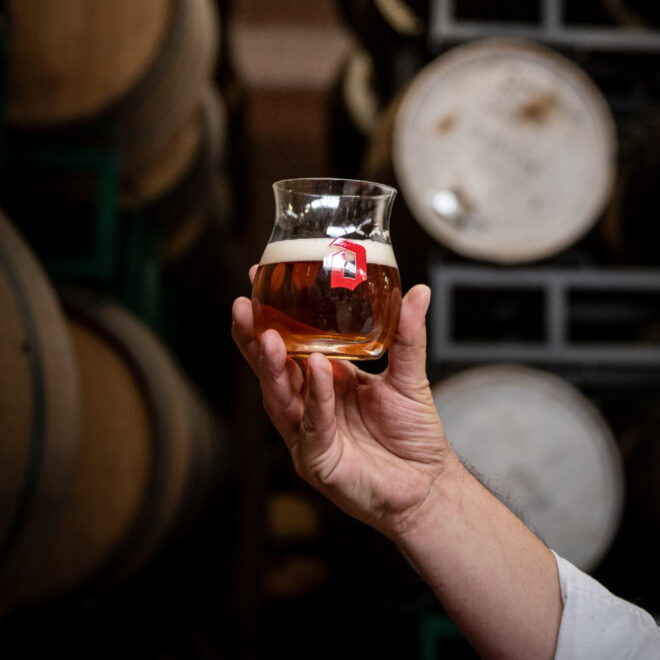 Cachaça is a distillate that, according to the protected designation of origin, can only be distilled in Brazil from cold-pressed sugarcane juice. Thanks to its fresh juice, cachaça manages to retain its vegetal flavour essence. What makes it truly special is its fermentation, which takes place outdoors: this allows the wild yeast cells to provide a full and rich flavour intensification. Moreover, our selected cachaça barrels originate from Minas Gerais in south-east Brazil, one of the world's largest sugar cane producing regions.
To blend the aromas and flavour complexity of the cachaça barrels and the base beer, Duvel Barrel Aged, The Brasil Rum Edition matures for about 8 months. Cédric: 'The flavour and aftertaste will become rounder thanks to the original alcohol that is still present in the soaked oak barrels. This explains the increased alcohol content of 11%.'
At the first taste, we discover a tropical-fruity palate with ripe aromas of vanilla, clove, caramel and toffee. Then, the velvety mouthfeel of marshmallow adds to the harmonious flavour experience.
Party at the table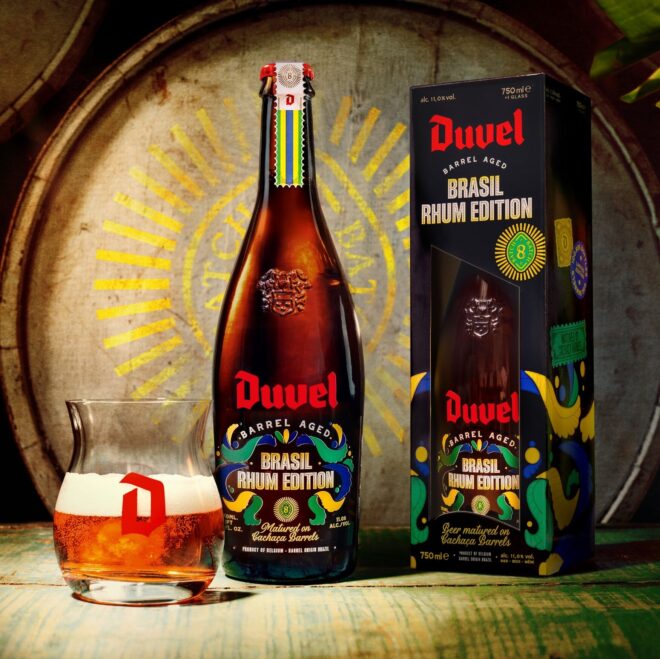 Duvel Barrel Aged, The Brasil Rum Edition is a degustation beer of choice. So make sure you invite your friends, family and loved ones to join the tasting.
Just like with previous editions, we have displayed the roots of this eighth edition in the unique design of each numbered bottle. Apart from Brazil's national tricolour, the playful feathers are our ode to South American party culture. Do you feel the vibes too?
To let you fully experience the fruit of our efforts, we would like to give you some serving and tasting tips. Ideally, Duvel Barrel Aged, The Brasil Rum Edition should be served at 8°C. Its unique aromas are best appreciated in the specially developed tasting glass, which you will find in each package. Personally, we prefer to sip from a straight glass, while enjoying the combination with cheese, (exotic) fruit and chocolate. Because Duvel Barrel Aged, The Brasil Rum Edition is all about celebrating life.
Duvel Barrel Aged, The Brasil Rum Edition: 11% ALC - 75 cl - 8 months matured